Nationality
American
Technique
Traditional Pavement Artist
Why do you street paint?
I street paint for many reasons. I love being out in the sunshine with my chalk family performing art and meeting people. I love to travel to new places and experience what each new town has to offer. I love the feel of asphalt and pavement and how it accepts the medium. I love learning from other artists and street painting allows that kind of networking. Plus, its just a whole lot of fun!
Why is the Sarasota Chalk Festival important to you?
Sarasota gives me the chance to visit a state that I love and to interact with national and international
artists that otherwise I would only visit online.
Biography
My name is Terralynn Lake and I am from Michigan. I am not formally trained in art but I have been an artist my whole life.
Some of my first memories are of drawing with my beloved crayons. I developed a good base of skills in a 4-H ceramics class. I was taught well the importance of detail, and to finish your work. I also learned amyriad of faux finish techniques.
From there I continued my work in high school. I even convinced my teacher to allow me to take both Art III and Advanced Art in the same semester. In my adult life I have done set work for a local community theater and my kids had ultra-creative bedrooms.
I discovered street painting in 2009, did my first painting a year later and have not stopped since. I am honored to be a part of this community, this family. I have had the opportunity to meet some fantastic people, travel and really grow as an artist and person.
Artistry runs in the family, my daughter and son are also very talented in performing and visual arts. My husband Tim has "mad" vocals and is a star on the local stage. And now my grandchildren are enjoying "arting". I am a very lucky lady.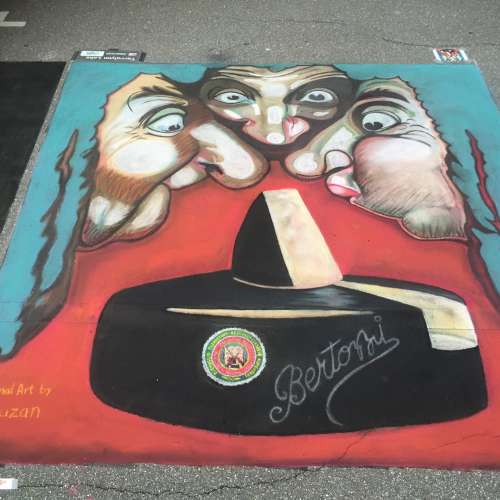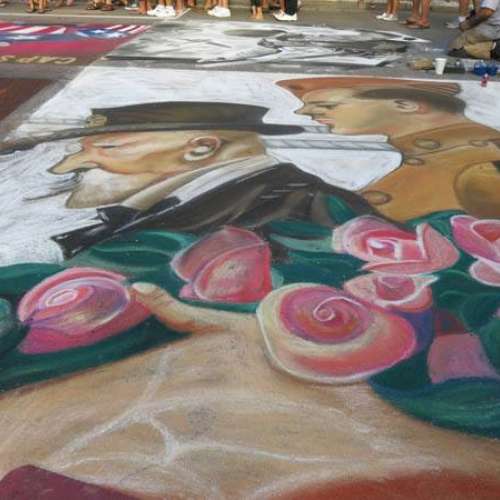 Be An Artist
Submit an application to participate as an artist in this years chalk Festival!
Submit Application
Our Artists
Peruse all of our talented artists and learn more about them.
View Artists