What is the Admission Price for the Sarasota Chalk Festival April 5-7, 2019?
The Sarasota Chalk Festival is $10 per person and students $5 donation or whatever you can, and hopefully generously so that we can continue to host the most renowned pavement artists from all over the world.
From our Founder: Our not-for-profit which is run and managed 100% by volunteers who have worked very hard over the past eleven years to build a global community - we call it our Chalk Family. We pay for every expense for the artists to participate, and they donate their talent and time for FREE to our community because of all the work we do to advance the pavement arts. What the spectator gets is a chance to be a part of the festival success, a part of the chalk family by attending and giving as much as they can to support the hard work the artists and volunteers are doing. We believe our 'ask' of $10 for an adult is very very reasonable. We also respect that not everyone believes it is. We want those who attend to really want to attend, and what better way than to contribute to our family to make it stronger.
What are the hours?
Last Day Today!! 8 AM - 8 PM April 7th, 2019 Last Day Today!!
What is NOT allowed into the festival?
No food or beverages are allowed. (Beverages can be purchased inside and there are lots of restaurants in the area)
Bags may be subject to search prior to entering.
No bicycles, skateboards or anything of its type.
No pets or emotion support animals of any kind.
Can I bring my pet or Dog?
No. Pets are not allowed. The Chalk Festival is a fine art festival with artist working on their hands and knees. The entire venue is designed for people only.
The law that allows a trained service dog to accompany a person with a disability is the Americans with Disabilities Act (ADA). The Chalk Festival allows trained service dogs.
We do not allow emotional support animal, which is an animal (typically a dog or cat though this can include other species) that provides a therapeutic benefit to its owner through companionship.

Will there be food at the Chalk Festival?
April 5-7, 2019 The Sarasota festival will not have any food but there are lots of great restaurants in the area such as The Fountain, Owens Fish Camp, Fresh Start, Burns Court Cafe, Amore' and Nancy's BBQ.
November 15-18, 2019 Because this is a remote location, we provide lots of food vendors at the November Chalk Festival in Venice. A variety of food trucks, beverages and spirits. More than we had previously!

Parking?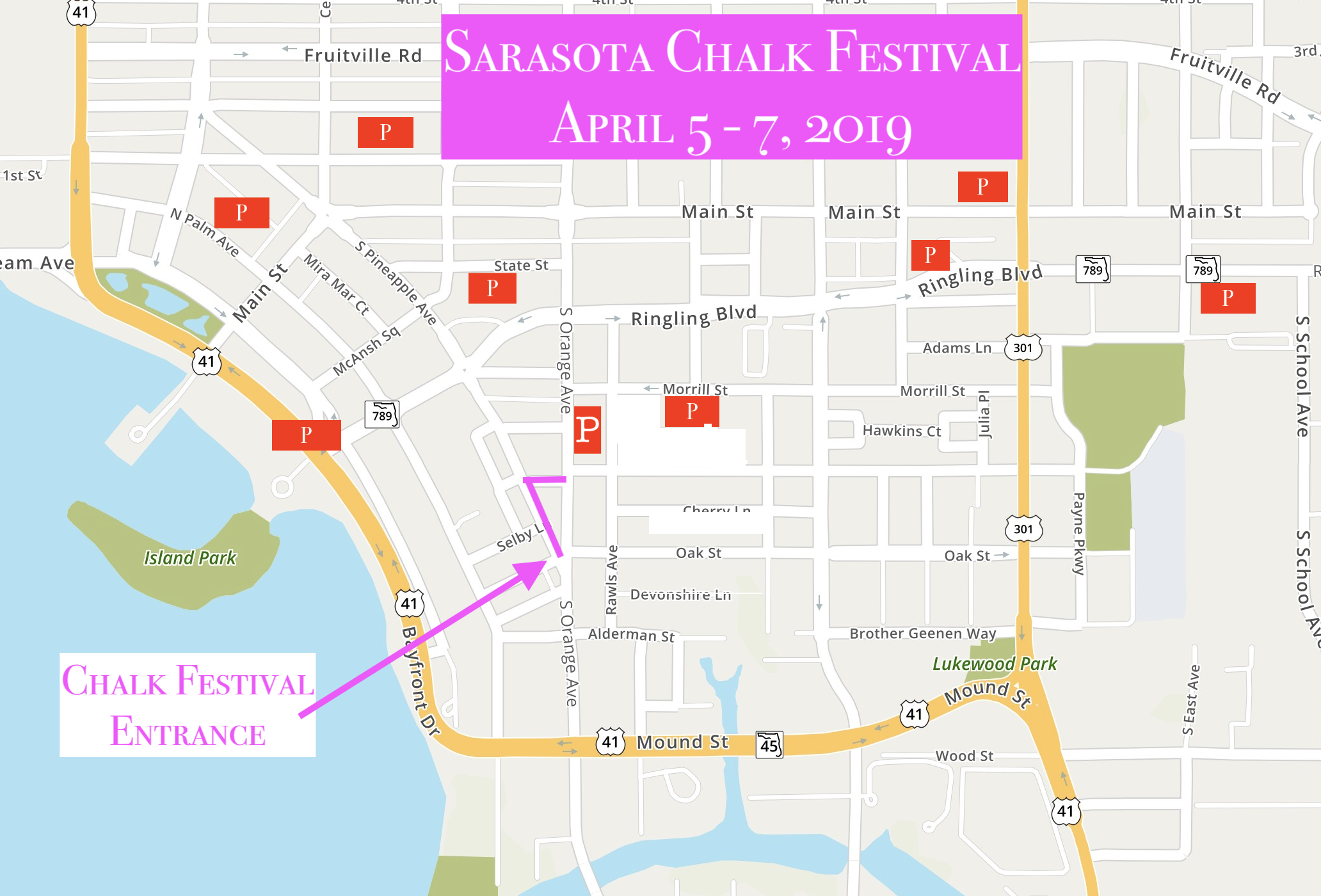 What happens if it rains?
The weather is looking perfect so come and enjoy the festival!!
We make every attempt to protect artwork by covering it with plastic should it rain. We have had rain and the artists stop but start again as soon as it stops. Water will damage the artwork. So will walking on the art or spilling anything on them. We ask everyone to be cautious when viewing and getting close to the artwork.

Rain and the elements outdoors such as too hot or too cold certainly makes this art form more challenging for the artists. Artists will attempt to fix any part that's been damaged. This is also challenging for the volunteers and our nonprofit as we work all year to bring this festival to our city streets and pray for great weather.
How do artists get approved to participate in the festival?
Artists who want to participate sign up online by clicking HERE. Everyone who wants to participate in the November festival are automatically approved - including those who have never tried it before! All artists requesting stipend for travel and lodging are approved on an individual basis through our scholarship funding. All attends can participate in the Young and Young at Heart public interactive fun chalk area where we provided chalk, the same kind that the artists use to create mini-masterpiece.
Can students participate in the festival?
We love students! All students are approved to participate in the November 15 - 17, 2019 festival regardless of skill level and must fill out the artist application. Students are provided a class from a professional pavement artist prior to participating, art supplies, student artist t-shirt, lunch, ticket to events, and space to participate.
What does the money collected go to?
We are a 100% volunteer organization and all funds raised goes to the Avenida de Colores 501c3 nonprofit for scholarships so the artists can participate and to pay the costs to host the international festival.
What is the this years theme and what were the past themes?
The Sarasota Chalk Festival in 2019 will have an open theme. The 2019 theme in November is GARDEN OF WONDER, "A tribute to the marvels of the natural world and the human imagination". Visitors can expect a wide variety of subjects surrounding the ephemeral nature of the pavement art form. Hundreds of artists create an abundance of imagery and 3D illusions for the public to become an integral part as the viewer.
The Festival past themes:
2017 - Evanescent
2016 - Love & Peace
2015 - Eat Drink & Be Merry
2014 - Extinct and Endangered Species
2013 - Honoring Veterans, Inspiring Patriotism & Embracing Freedom
2012 - Circus City, USA
2011 - Pavement Art Through the Ages
2010 - Halloween/Fall
2009 - Goddess Flora/Spring
2007 - Movies
What is the Admission Price for the Chalk Festival in Venice November 15 - 18, 2019?
November in Venice has a Four-day unlimited pass for $25 - Click Here for Pre-Sale
November in Venice: FREE Children 12 yrs and younger FREE Parking Friday $5 admission Saturday $10 Adult $5 Student Sunday $15 Adult $10 Student Monday $10 Adult $5 Student FREE Veteran with ID