The Chalk Festival accepts anyone and everyone who wants to signup to chalk including beginners, families, students or teams. Please fill out the application, CLICK HERE today and let's get chalking!
While we have experienced and seasoned artists, we love helping those who never tried it before. If you have any interest in participating as an artist we highly encourage you to sign up for the Chalk Festival in October - you will love it.
Artists creating oversized chalk drawings will chalk 2 days on Friday October 28 and Saturday October 29, some finishing October 30. We also welcome artists, students and beginners to chalk one (1) day on Saturday October 29th.
We provide the space and materials to create your chalk drawing. You just need to show up in comfortable clothing. We suggest you dress in layers, bring a cushion to sit on, sunscreen, a hat and any personal items you will need.
REMEMBER: We also have a public participation area for those who do not want to sign yet want to give chalk drawing a try while attending the festival!
Please fill out the application, CLICK HERE today and let's get chalking!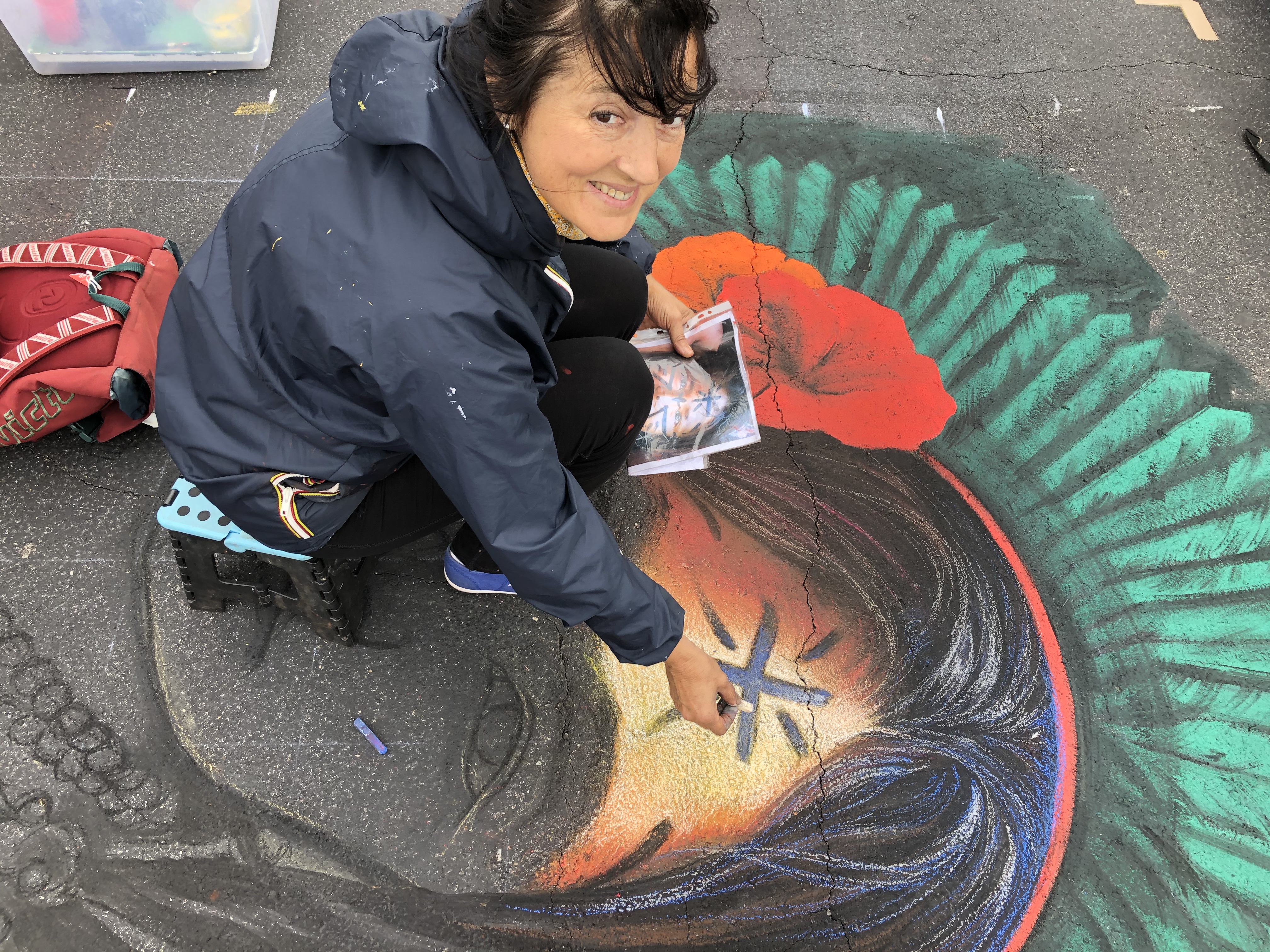 Simonda Sofia Lanfredi at the Sarasota Chalk Festival in Venice Nov. 2019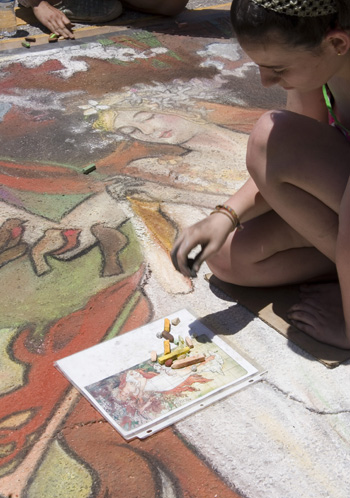 Student artists sometimes work in teams to complete a chalk drawing.
The Chalk Festival 'Avenue of Art' has been extended through 2022
The Avenue of Art is a self-guided, open 24/7 social distancing event in Burns Square, downtown Sarasota. Over 150 sidewalks have already been hand-painted by Chalk Festival artists as well as local artists, students, families and teams. The artwork thus far was curated to celebrate Sarasota County Centennial. Each painting has a QR code that brings spectators to interesting and informative stories about the artwork and the artist that created it.
We are expanding the Avenue of Art this spring with various themes. Beginner, experienced and experts are encouraged to join us in painting a sidewalk - no painting experience necessary but an enthusiasm to try is a plus. YES PAINTING, not chalking. What to join us in painting the town, CLICK HERE to sign up.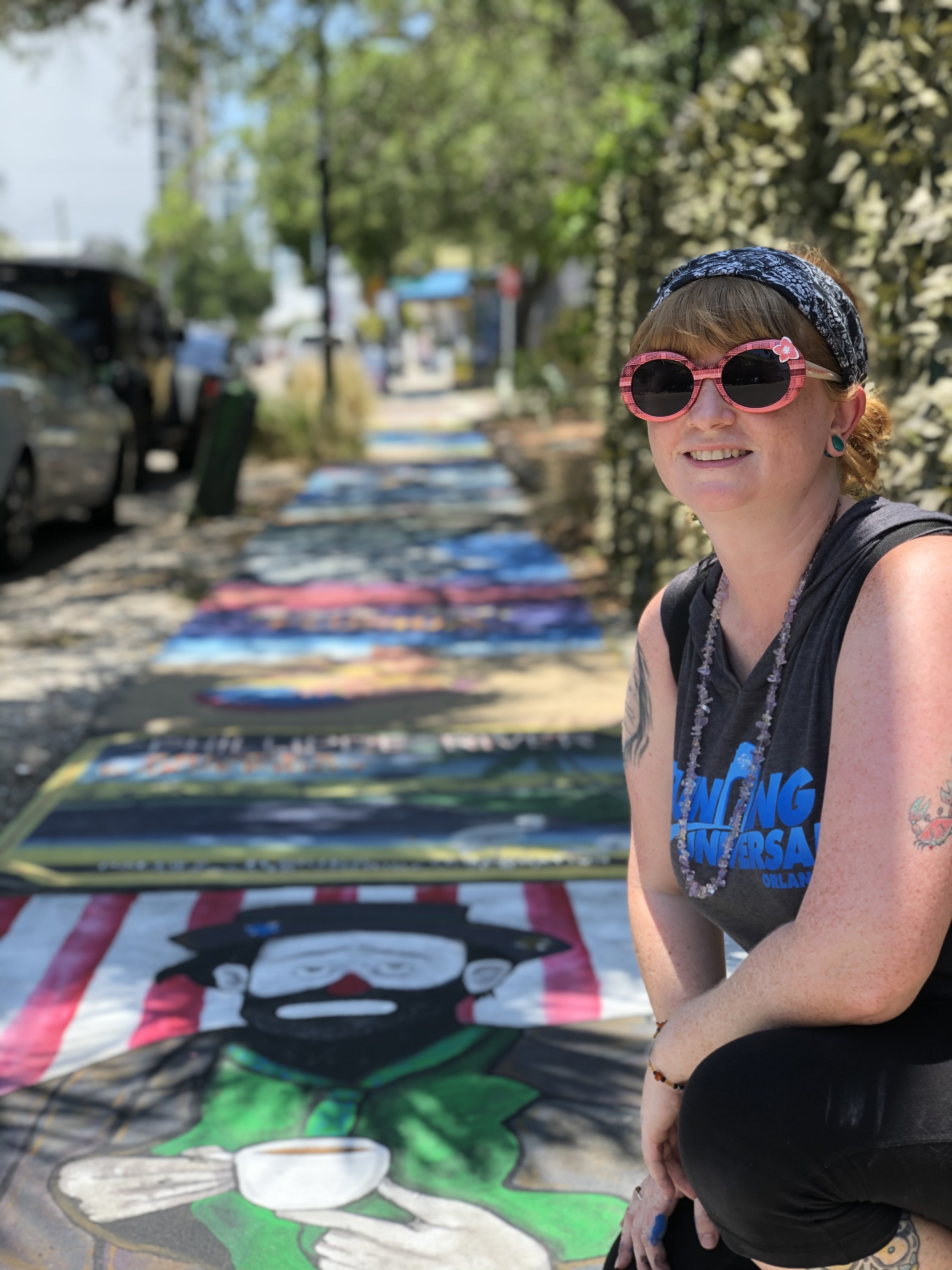 Carrie Phillips at the Avenue of Art next to her painting of Weary Willy Clown