3D Illusion Museum OPENS MARCH 6th!
SARASOTA, FL
The Chalk Festival debuts a world-class '3D Illusion Museum' March 6th at the Ice House, 1314 10th Street in downtown Sarasota, Florida. The museum will be open Thursday thru Sunday weekly and for special events till May 31st. Tickets are on sale now, click HERE for available dates.
The concept of the museum started in January when Chalk Festival Founder Denise Kowal was looking for a creative way to engage the public in its arts philanthropy. When she spotted the Ice House on 10th street was for sale, she contacted the owner to see if the organization could use it until it sold. Kowal was very familiar with the property as she worked with Sam Alstad to create the show 'Re-Imagining The Chalk Festival Artists Art' at the the location in 2013. It coincided with the 2013 'Legacy of Valor' Chalk Festival in Burns Square, her organization partnered with the Patterson Foundation that was promoting the opening of the Sarasota National Cemetery.
Kowal and the owner came up with a short lived plan as the property was under contract. Quickly the new owners were brought into the plan and Kowal was off and running to create a temporary pop-up museum.
Kowal started asking some of the top Chalk Festival 3D illusion artists for help with a fun museum concept to raise funds for the Avenida de Colores 501c3 non-profit cultural arts organization. By the end of the first week, over a dozen artists had committed to bringing their paint brushes to create original works of art on the walls.
With barely a concept formed, Artist Carlos Hernandez was already in Florida finishing a project in Tallahassee when he jumped on a plane before heading back to Mexico to create the first 3D Illusion in the Ice House.
Since then artists have been coming and going covering every wall. Artist Gregor Wosik arrived from Germany and was leaving when artists Limnesh Augustine and Jincy Babu from India arrived. Eduardo Relero arrived from Spain and Santiago Hernandez came from Guanajuato. Shortly thereafter Remko Van Schaik arrived from the Netherlands and Sergio Nino arrived from Columbia. Artist Lori Escalera came from California and Kanako Matsumoto traveled from Japan. Local artists Erik Schlake, Truman Adams and Matt McAllister then came on board. Artists are still coming such as Tony Cuboliquido and Vittorio Valiante from Italy, Leon Keer from Holland and Ruben Martinez from Mexico.
Founder, Denise Kowal states, "Our non-profit is a global volunteer organization that hosts the largest gathering of renowned pavement artists each year in November. This past November the non-profit had major challenges with the weather and our attendance was down. This pop-up event is to help us raise much needed funds to move forward with our 2020 programming."
A ticket is required to attend the 3D Illusion Museum. Tickets should be purchased online by clicking HERE. You can take the risk and pay at the door if capacity is not already full. Daily attendance is being limited so visitors can have a relaxed experience and will not have to wait in lines to capture memorable photos with the original works of art. The Museum will be open Thursday through Sunday from 10 AM till 5 PM each week from March 6 till May 31, 2020.
Stay tuned for featured events being planned. Private parties can be scheduled by contacting the Chalk Festival staff at info@chalkfestival.org.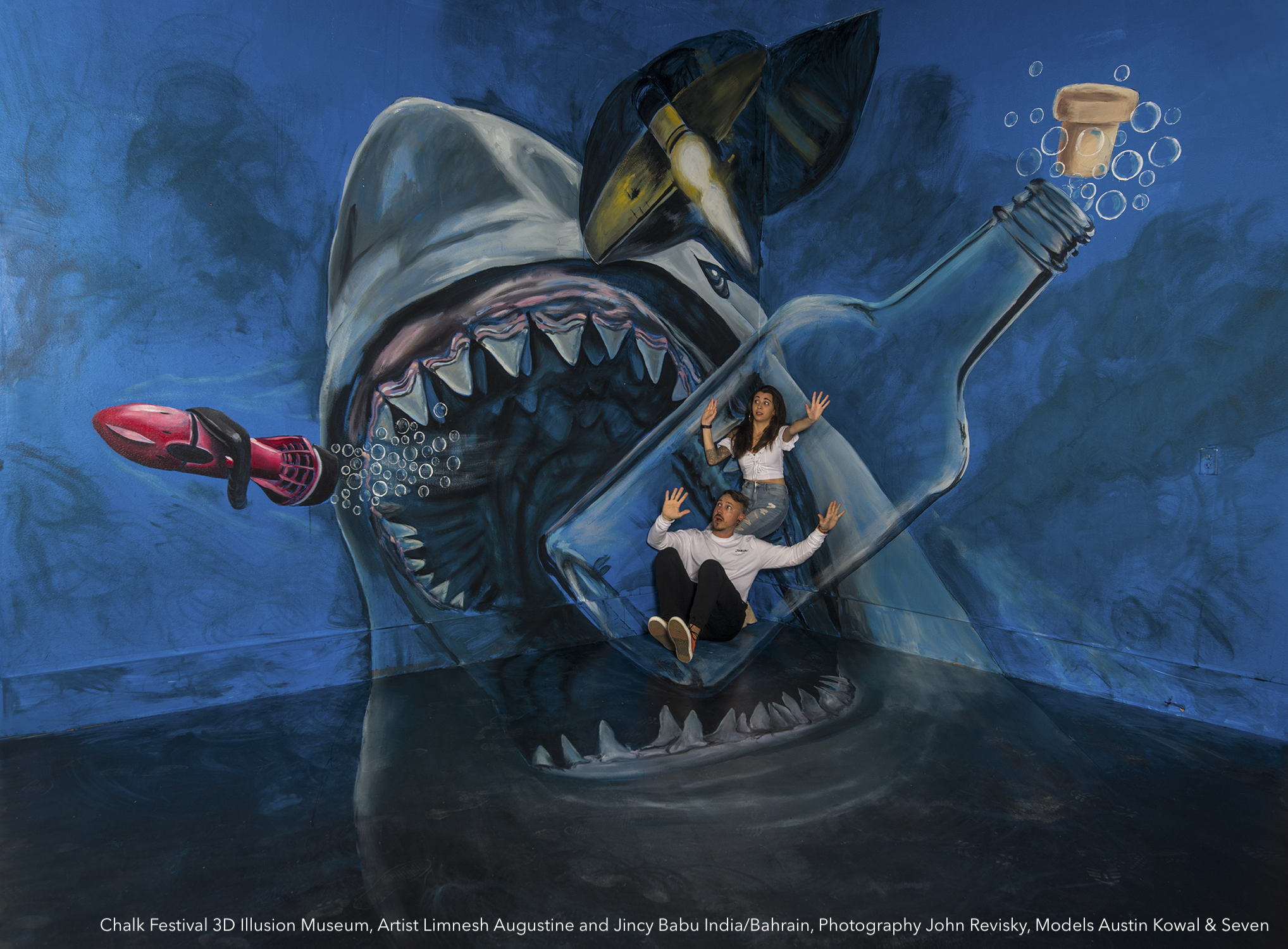 PHOTO: Artists Limnesh Augustine and Jincy Babu from India, Photography by John Revisky from Sarasota, Models John O'Keefe from Sarasota and Chalk Festival Logistic Chairman Adam Holbrook from Maine