Price

Donation

$10 Adult / $5 Student
Dates

Jan 1st - Dec 31st

12am
Location

Burns Square

South Pineapple Avenue, Sarasota, Florida, 34236

The 'Avenue of Art' started as a Chalk Festival event during covid. Artists already completed 200+ sidewalk paintings for your viewing pleasure. This social-distancing cultural community event started in 2021 and continued into 2022 to celebrate Sarasota County Centennial from 1921-2021.
***UPDATE ON OTHER CHALK FESTIVAL EVENTS***
3-D Pavement Art October 28 - 30 click HERE for illusion information!
The Zombie sculpture exhibition Oct. 28-Nov. 1 click HERE for zombie info!
The Sarasota Sidewalk Chalk Art Contest & Fundraiser Oct. 30, click HERE for contest info!
"Chariot of the Sun" Mural Community Project October 26-30, click HERE For mural info!
Avenue of Art Artists of all ages and skill levels, local, regional, national and international have participated in this event. Lori Escalera traveled from California. Lori participated in the Sarasota Chalk Festival since its inauguration in 2007 and every year since. We also had two sisters, age 2 and 4, that did a sidewalk painting of the Sarasota sun, handprints and footprints :). Chalk Festival artist Luther Rosebaro (sketch artist) from Sarasota, took up painting for the first time as an artist in the 3D Illusion Museum in 2020, participated in the Avenue of Art, as did professional artist Truman Adams. After the April 2022 'Resilient' Chalk Festival, we brought many of our International and national artists to Burns Square to expand the Avenue of Art to now include over 210 hand painted sidewalks.
The QR code directs visitors to information about the painting and how it is celebrates Sarasota County, as well as the artist and sponsors. Visitors can take this walking tour through the Burns Square historic district to view the street paintings anytime day or night. All one needs is a cell phone with a QR reader to access the information. And, you do not need a phone to just stroll and enjoy the artwork.
The stroll starts at the South East corner of Oak Street and S. Orange Avenue in front of The Exchange. You proceed north on the sidewalk to Laurel and cross the street to pick up sidewalk paintings on Laurel Street and Orange Ave, in front of Susan Sloan Optometrist. You proceed south on the sidewalk towards The Fountain where it continues on the other side of the building heading north up the east side of S. Pineapple Avenue past Laurel Street to Dolphin St.; at Dolphin Street you cross over to the west side of S. Pineapple and walk all the way south towards LBoutique. The Avenue of Art stroll ends at the corner of S. Pineapple Avenue and Oak Street.
The Avenue of Art is the first of its kind art project where city blocks are hand painted creating multiple individual paintings.
Please consider supporting our efforts by DONATING, CLICK HERE. We are trying to secure enough funds to paint more throughout downtown Sarasota.

To go to the AVENUE OF ART website page CLICK HERE.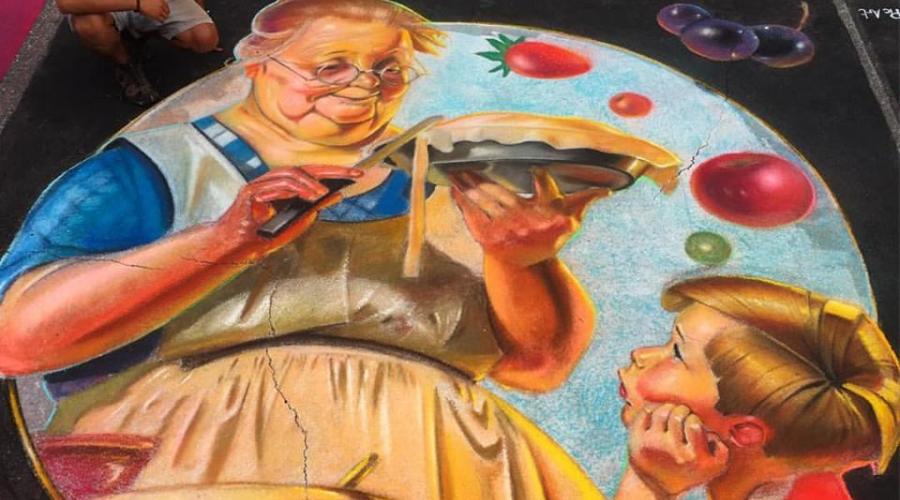 Jan 1st - Dec 31st
2023 Creative Undertakings
What we are up to this year!
More Details